Chatting with colleagues recently, we realised how London changes your perception of distance. You type in where you're going in Citymapper and off you go – even if it's over an hour away by tube and bus, you're likely to go the distance as a Londoner. 50 minutes for a drink with a friend? Doable. But before moving to the capital, travelling 50 minutes for a casual drink in the evening would have felt ridiculous. This means that my perceptions of day trips have also changed. Travel for an hour and you can swap city for countryside? I'm all in. In fact, as someone who grew up in a small village, planning slow escapes at the weekend are near essential.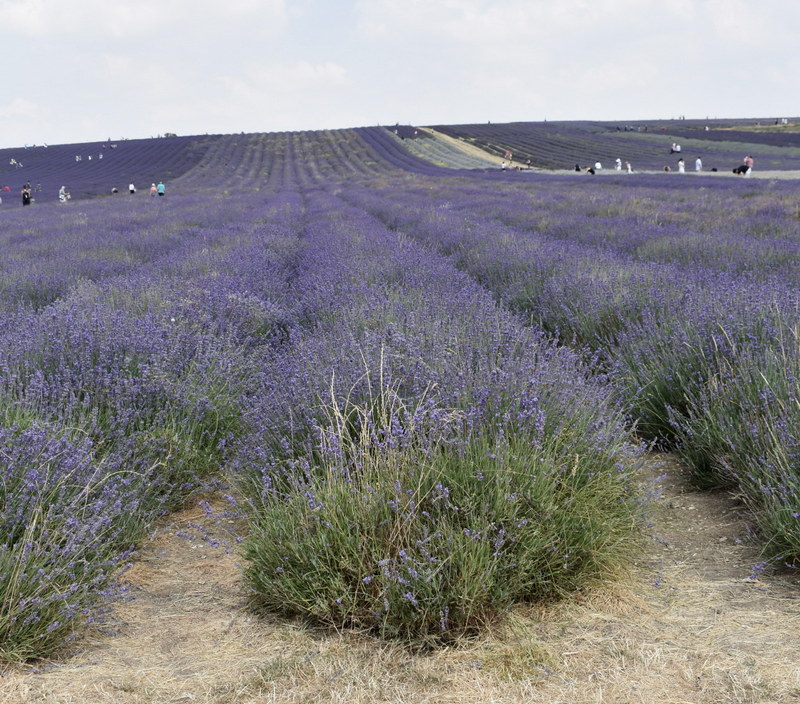 Provence's lavender fields have been on my bucket list for some time. So, when I discovered that the beautiful British lavender fields that were popping up on Instagram were just over an hour away by car from West London, it was time for a day trip. Bonus if you live in North London, it's practically on your doorstep. Here's a look at Hitchin Lavender Farm in Hertfordshire and why it makes a great slow escape from the city.
Stop and Smell the… Lavender
Hitchin Lavender is an assault on the senses. First, you stand in awe of the swathes of purple trailing down the hill as you queue to pay. Then, as you're given your scissors and bag and eagerly enter the cutting field, the aroma hits you. It's intensified every time you push past the sprawling bushes. After a while spent taking photos and taking in the view, you quietly make your way up to the top of the field, snipping as you go. After a while you'll slowly begin to hear a deep hum as thousands of friendly bees dance around the bushes. It's a nature haven.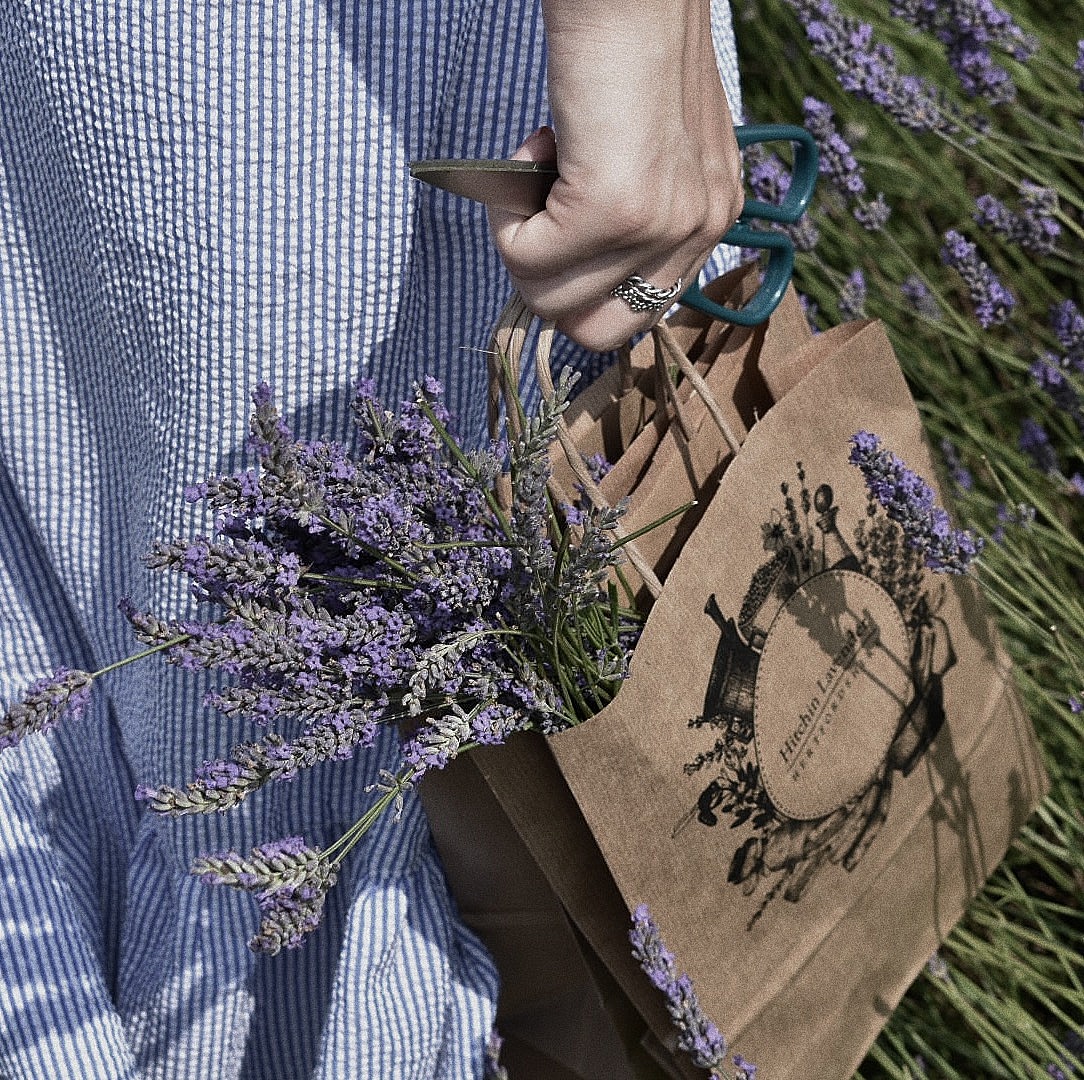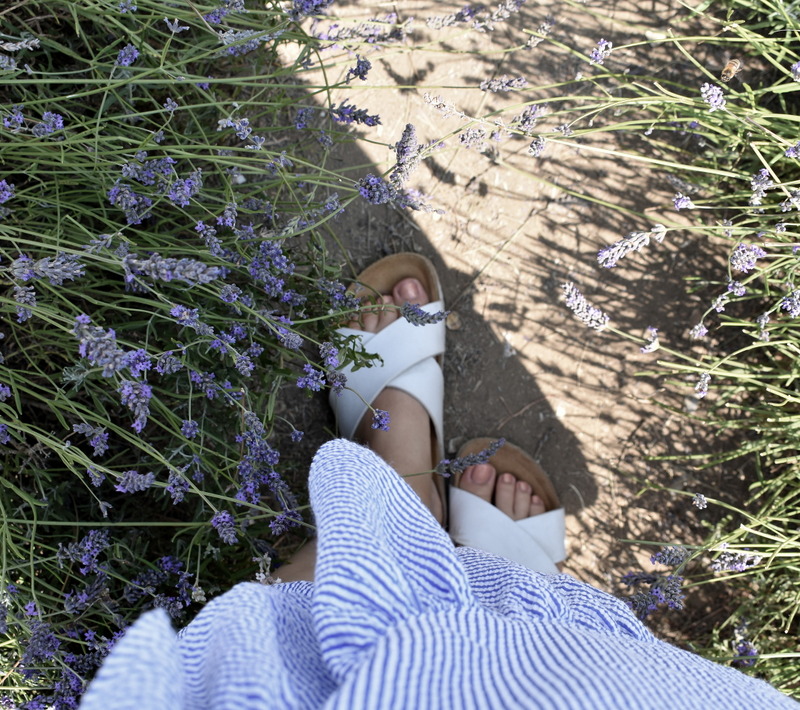 Although Hitchin Lavender was busy, the experience was relaxing, encouraging a little spontaneous mindfulness even. After all, to fill one of their bags to the brim takes quite a lot of snipping. Once the obligatory photos are out of the way, all you're thinking is: " how can I fit more lavender in my bag?" and "what can I make with my lavender?" When you're done picturing yourself in a farmhouse kitchen making lavender biscuits, there are sunflowers to visit. Though, these weren't ready for cutting when I visited, I imagine they'll give the lavender a run for its money in late summer.
Of course, as well as taking home your carefully picked stems, there is a lavender themed shop with almost-every-variety-of-lavender-ever and many different flower-infused gifts. It's beautifully presented in a rustic 17th-century barn, alongside the cafe which has indoor and outdoor seating. The lavender raspberry jam is delicious.
This family-run farm is nothing short of Country Living-chic. In fact, there are signs advertising out-of-hours events, such as yoga, meditation and a sundown cinema. Sounds like bliss, right? And in case you were wondering, they do weddings…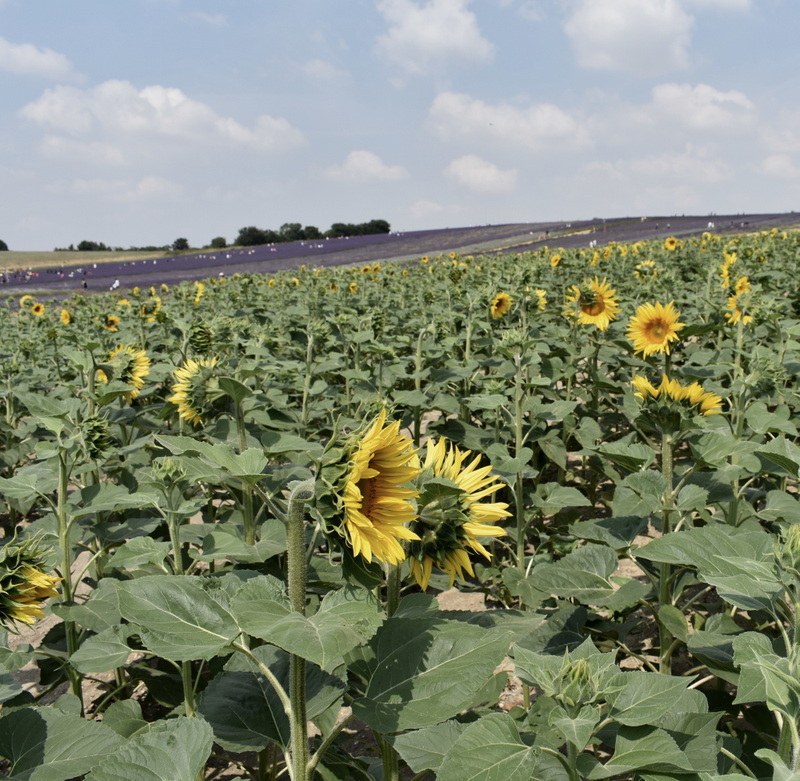 Lavender Logistics
Prices: £6 per adult, £3 for 5-14 year-olds and free for under 5s. This includes filling a bag full of lavender with their borrowed scissors. When the sunflowers are ready to be cut, they're priced at 50p a stem. Check their social feeds for sunflower news.
Opening Times: 10am to 5pm everyday until the end of August with late openings on Tuesday and Friday.
Getting There: There's ample parking and it's not far from the A1M. If you're getting the train, they recommend Kings Cross to Hitchin and then taking an Uber or taxi, though do keep an eye out for any buses or coaches as this is a popular destination.
In short, Hitchin Lavender is a perfect rural escape from London. It's great for all ages, it's good value and uplifting. If you feel that your £6 bag of lavender isn't quite enough and your boot is begging to be filled to the brim, extra bags are £4. After all, what could be better than being surrounded by flowers? This slow activity really doesn't finish when you leave the farm; there are so many ways to use your cut lavender and fill your home with relaxing scents.