Over the past couple of years, we've been obsessed with the Danish word hygge. It's untranslatable, but refers to being present and acknowledging certain moments as particularly charming or 'cosy'. To brighten long, dark winters, Danes incorporate hyggelig moments into their everyday lives, without them feeling forced. Reflecting on the often romanticised way that hygge has been painted for non-Danes, it seems like a concept suited to encouraging slow living in our personal and domestic lives, but not in our professional ones. As work is such a big part of our week, I'm wondering what else contributes to the Nordic countries continuing to top the global contentment charts. For Swedes, I'd say another untranslatable word, fika, has something to do with it.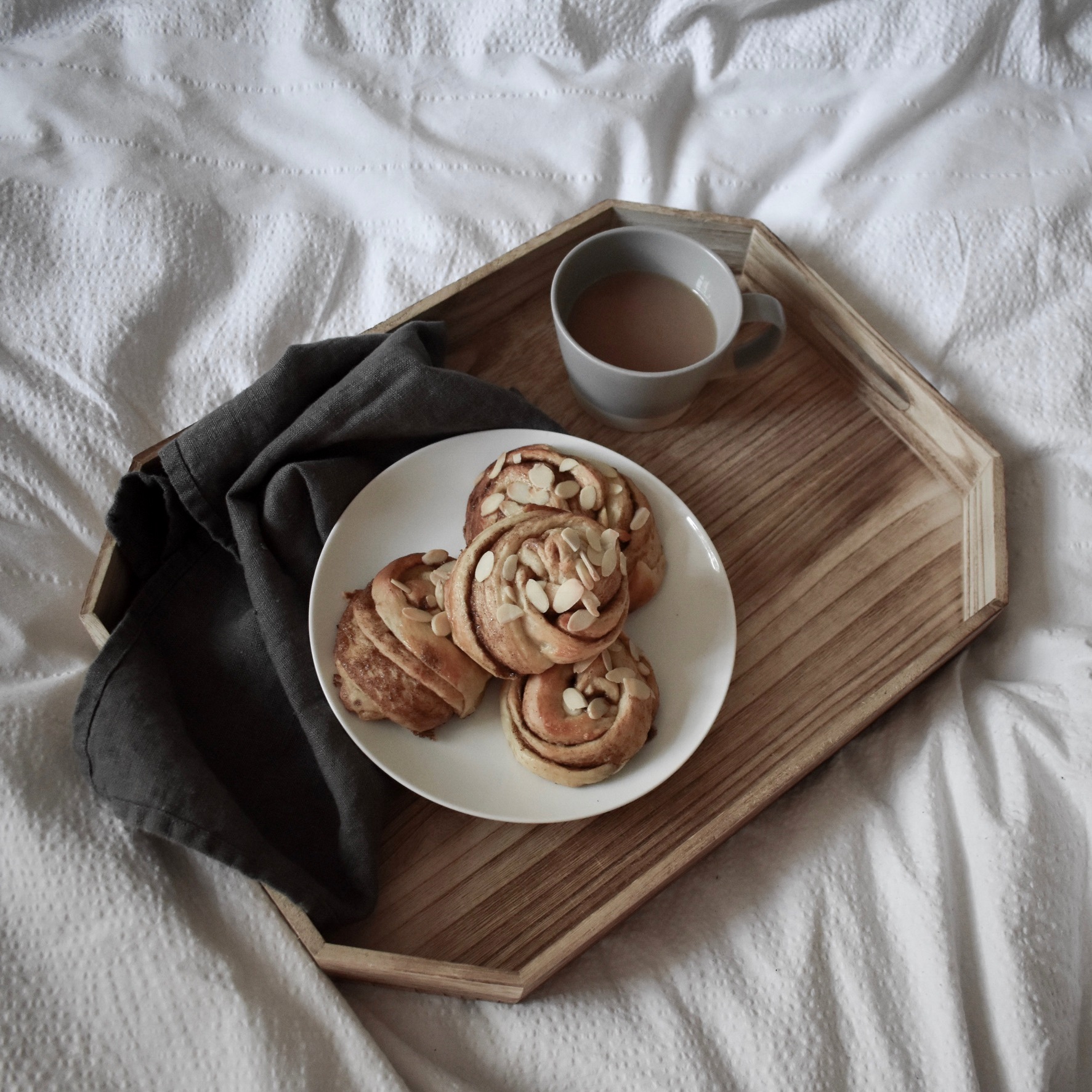 What is Fika?
Fika is the Swedish word for a coffee break – it's both a noun and a verb. But it's more than just having a cup of coffee, it's making time to slow down, pause, and enjoy a sweet treat. This will often be the much-loved Kanelbullar – Swedish cinnamon buns – found in every bakery and cafe in Sweden. Rather than queuing for a (probably non-recyclable) coffee cup with your name scrawled across it, sprinting back to work and forgetting all about your purchase minutes after, fika is a moment to look forward to. It's about contemplating on your own or enjoying conversation with friends or colleagues. 
Even big brands in Sweden incorporate fika into the working day, often twice. And it makes sense – a proper break to refresh the mind and strengthen social relationships can only create a happier, more efficient team. I know, it does sound quite idyllic and phrases like "I don't have time" or "what would my boss think?" spring to mind. But if the whole office is stepping away from their screens for a while, surely these breaks become as normal as lunchtime. In fact, in a BBC article, Matts Johansson, founder of a coffee chain in Gothenburg, mentioned that fika "…is like going to the pub in other countries". In other words, it's very normal because pretty much everyone does it. 
Can We Fika in London?
Londoners don't sit still for long. The hectic nature of the city is one of the reasons why I started Slow Living LDN. If you want to encourage your boss to embrace fika breaks or need to convince yourself that it's a good idea if you're working at home, reflect on this next piece of research. Margareta Troein Töllborn, a professor from Lund University, found that short, consistent breaks from work actually reduced the risk of employees experiencing burnout from stress. So, rather than seeing fika as losing 15 minutes of the working day, we should see fika as an investment. An investment in wellbeing, team morale and time to think creatively.
How to Fika Like the Swedish
Well, there are no rules, really. You can even swap the coffee for tea. You can fika whenever you like, wherever you like  – just not at your desk, while scrolling through emails. That's cheating. And, if you're having a break with colleagues, avoid talking about work – switch topics for a while, and you'll return to a problem or task feeling refreshed.
Ready to ditch our grab and go culture and add a hint of Swedish slow living to your day? I don't like coffee, but I'm on-board with tea, cake and the chance to press pause during the day.