Creating a floral wreath is the perfect slow living project. It's a particularly mindful activity that requires time, patience and creativity – especially if you're drying your own foliage.
Decorating with dried flowers also embraces slow interiors and is a nod to creating a more sustainable home. You can update your decor with the seasons, but rather than buying new items, you can look to nature for inspiration. The used dried flowers can be composted and returned to the garden once they've passed their best or you opt for a new design.
You can use a ready-made grapevine wreath, wicker wreath or a metal/wire hoop as your base, depending on the final look you're after. You could also create your own base wreath from willow branches. To attach the dried flowers and foliage, you can use gardener's twine or bind wire (thin wire covered in natural-coloured paper). Adding ribbon or raffia can be a clever way to cover up any visible twine. It might be preferable to use twine if it's biodegradable, as this can also be composted once you decide to replace or update the wreath.
Below, we share how to create your own floral wreath using a wire hoop.
How to Make a Dried Flower Wreath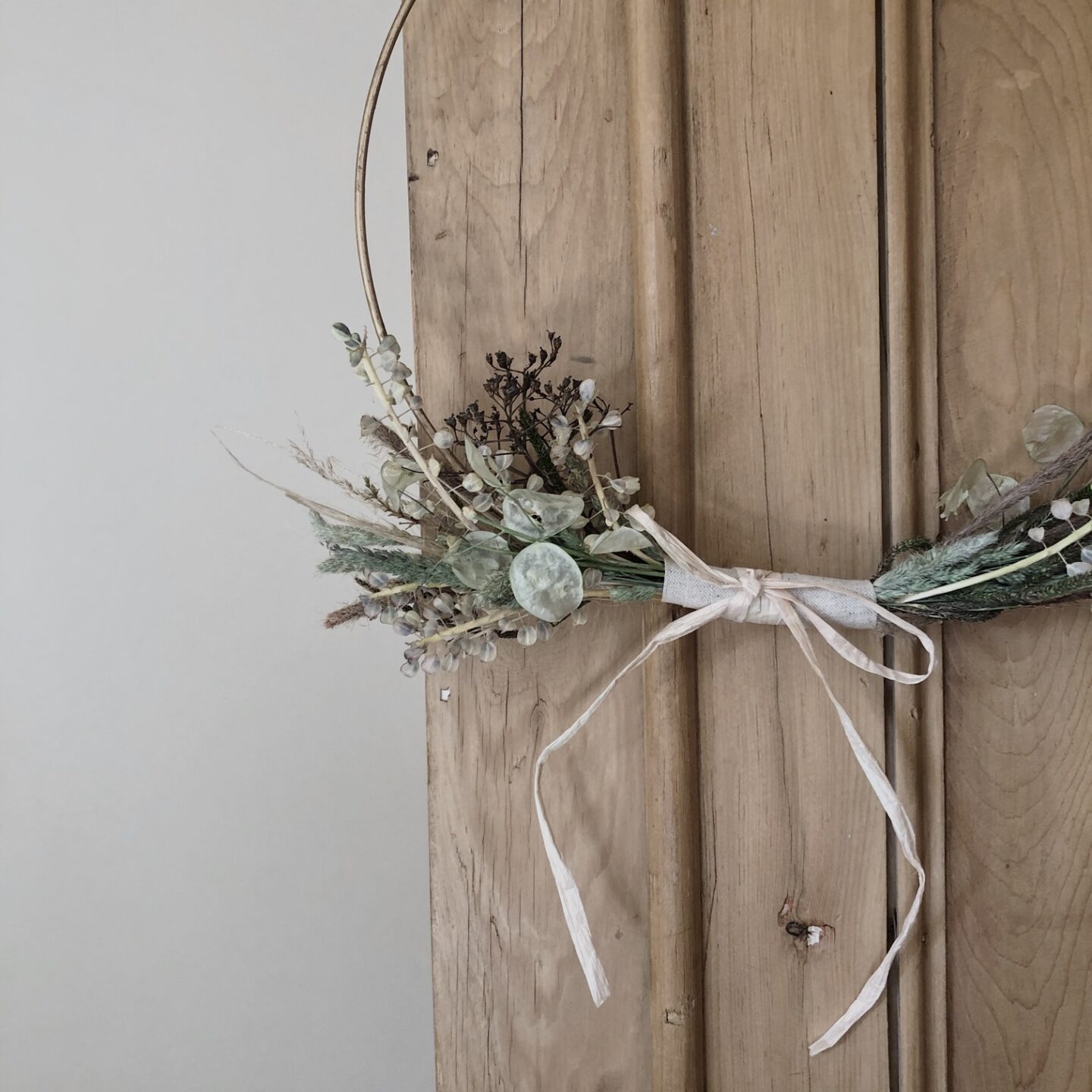 What You Will Need to Make Your Own Wreath
Wire hoop
Natural gardening twine or bind wire
Scissors
Pliers (if using wire)
Your choice of dried flowers and foliage
Ribbon, raffia or hessian
Choosing Your Dried Flowers
A mix of softer foliage, such as grasses, and larger statement shapes, such as interesting seed heads, can work well. Choose a few different types of foliage and dried flowers – sometimes just four or five varieties look more balanced than trying to include too many.
If you're drying your own cut foliage, read our tips on how to dry flowers using the air drying method.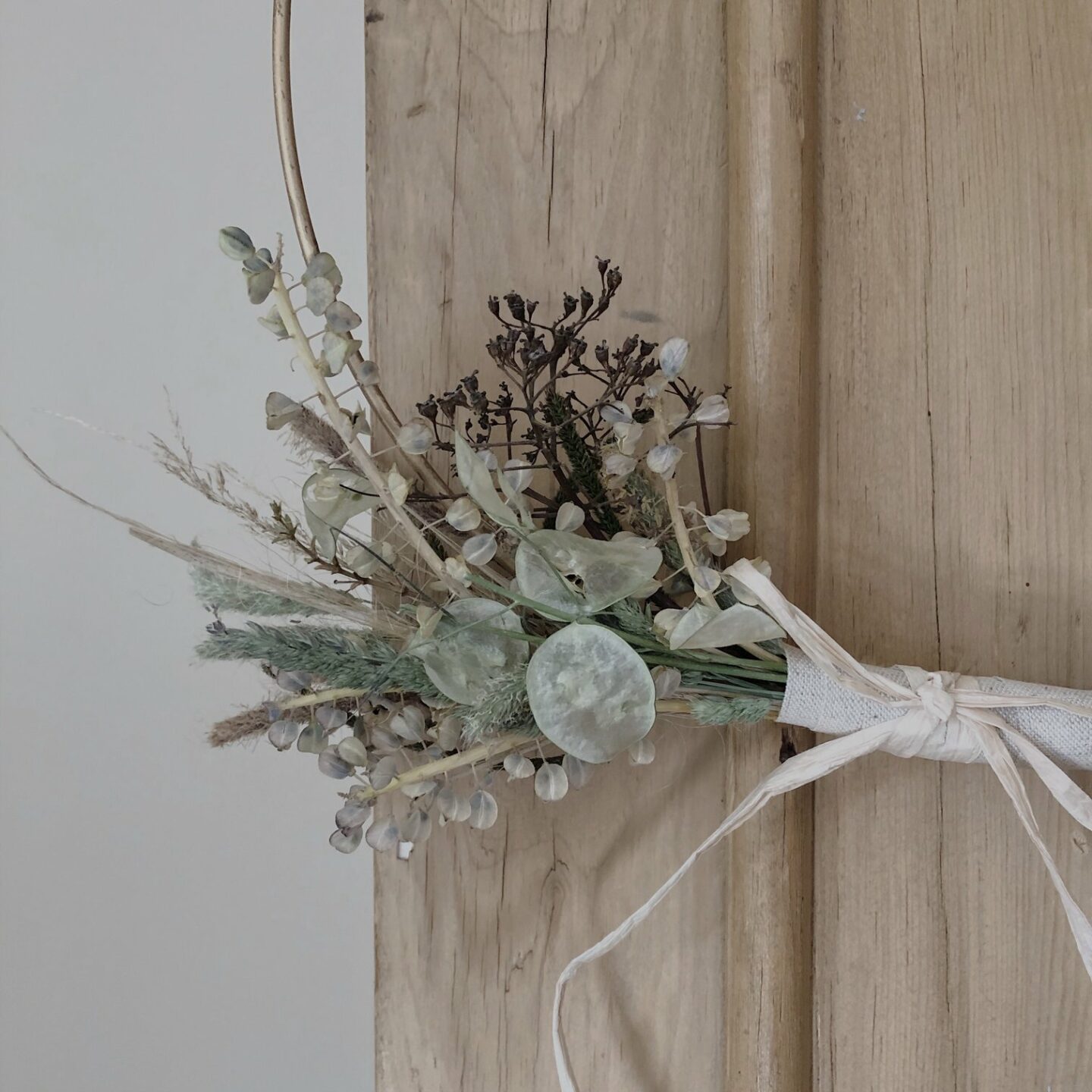 How to Make a Dried Flower Wreath: Step by Step
Attach your longest, wispiest foliage first (grasses work well) – this is what you'd like to appear at the very edges of the wreath. Tie each in the bottom centre of the hoop and possibly again half-way up the stems (this will be covered by other foliage later). Snip away any excess stems.
Now work inwards by tying four to six individual bunches of mixed dried flowers and foliage. Arrange these below the long foliage, tying each in the desired location on the hoop.
Add extra stems to fill in any gaps.
Tidy up the centre – there may now be a lot of twine or wire at the bottom centre of the hoop. To neaten this up, tightly bind a piece of ribbon or raffia around the centre, securing at the back with a safety pin or pin. You could also experiment with a trailing ribbon or raffia bow.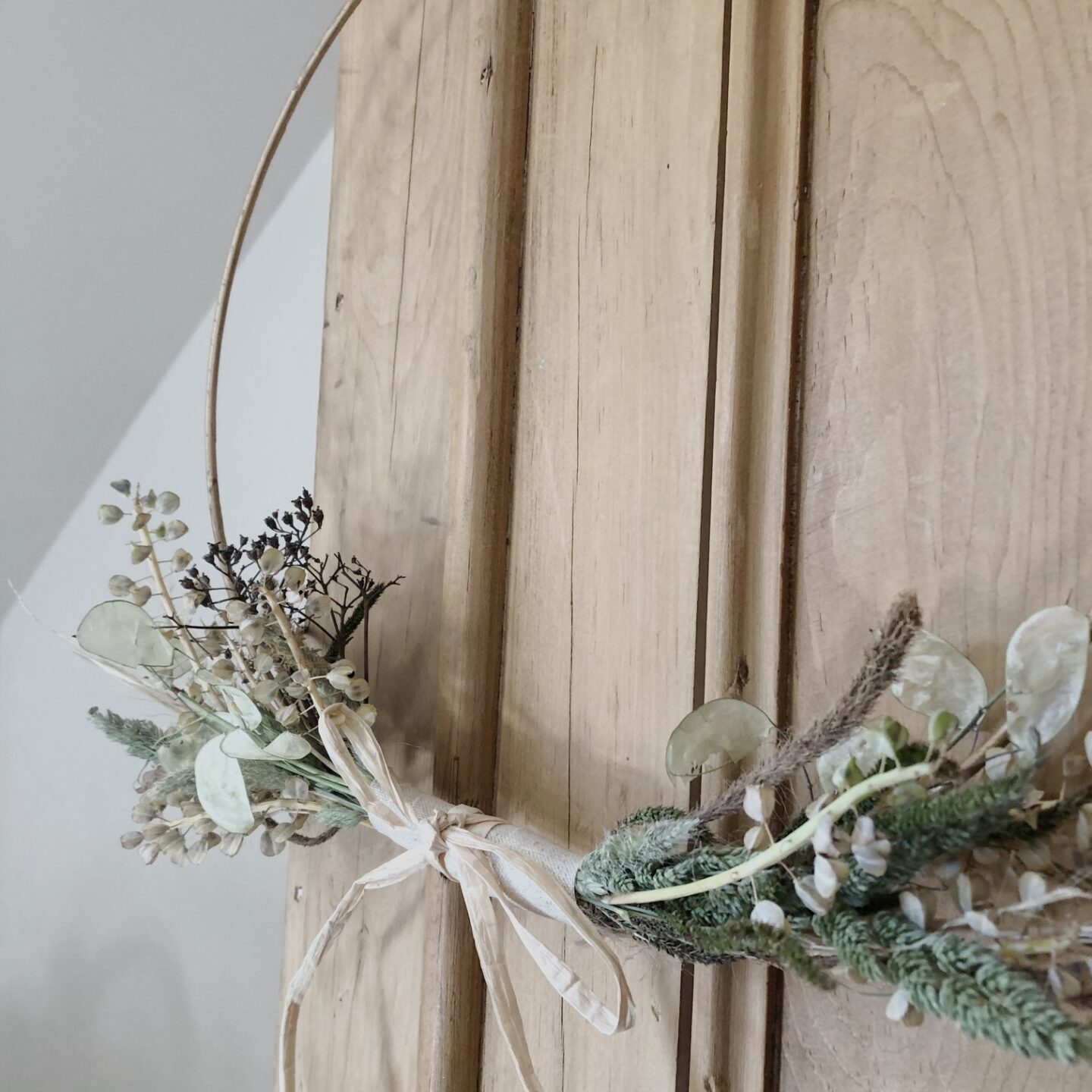 Tips for Creating a Dried Flower Wreath
Leave plenty of time – making a wreath requires some patience and is quite a messy job.
Have a little extra foliage and dried flowers to hand – dried flowers are brittle and their stems can easily break, so it's good to have some back-up.
If using twine, separate the strands so they are smaller and less visible once tied.
Create your wreath indoors – it might be tempting to work outside to avoid mess, but even a slight breeze can make wreath building more difficult.
More inspiration for your slow home: