It's the most wonderful time of the year, but it creates a lot of not-so-wonderful waste. A few years ago, it was estimated that 226,800 miles of wrapping paper is thrown away at Christmas and that us Brits use around 40 million rolls of sticky tape. It's pretty eye-watering for just one day.
Part of the joy of gift giving is watching loved ones open their presents. While most of us wouldn't be without gift wrapping, there are many ways to reduce the waste produced from the festive season. Below, discover creative, more eco-friendly Christmas gift wrapping ideas and learn why recycling doesn't always have as much impact as we first think with curbing Christmas wrapping paper waste.
Why Isn't Wrapping Paper Always Recyclable and Eco-Friendly?
Since it has 'paper' in the name, you'd be forgiven for believing that all the wrapping paper you toss into your recycling bin is later re-purposed. Sadly, it's not actually possible to recycle all types of gift wrap. Here's why:
Wrapping paper often contains non-paper additives such as glitter and plastic that can't be recycled.
Some thin wrapping paper is made of poor quality fibres making it less useful for recycling.
Sticky tape can't be recycled. This means that if your wrapping paper is covered in tape, it's unlikely to be recycled.
The Wrapping Paper Test
Recycle Now advises that if your wrapping paper stays in a ball when you scrunch it up, you can probably recycle it. If it springs back, you probably can't.
Being more selective of your wrapping paper choices is a great first step – today, you can find many rolls that are made of recycled paper. However, it's arguably even better to re-use and re-purpose what you have lying around the house to further reduce your environmental impact from wrapping waste. Being more sustainable can also be more economical, too.
---
Alternative, Eco-Friendly Gift Wrapping Ideas for Christmas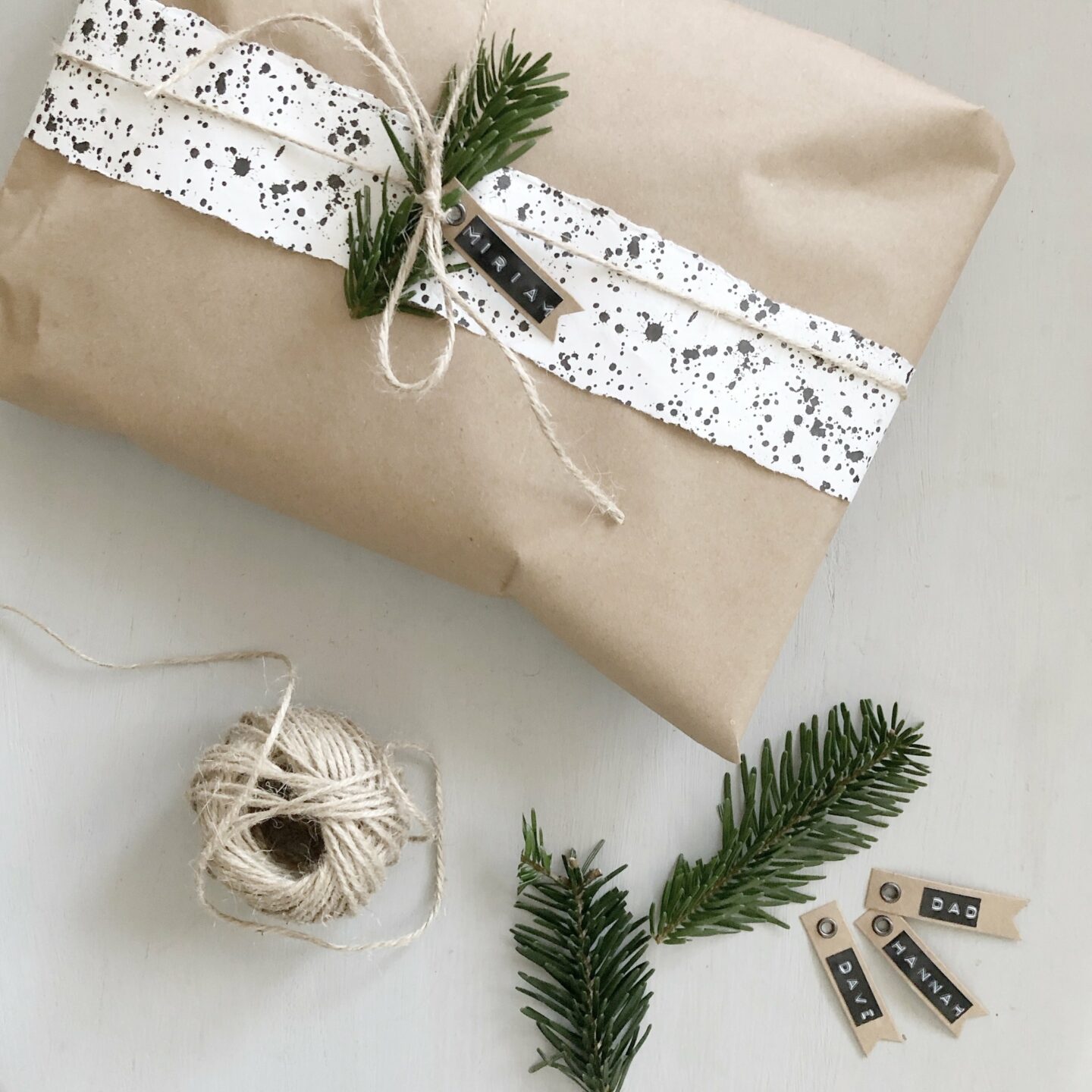 Sustainable Alternatives to Non-Recyclable Wrapping Paper
Brown Kraft Paper
Brown kraft or parcel paper is usually much cheaper (and often comes in larger rolls) than normal wrapping paper. It's recyclable and sometimes made from previously recycled paper. It's the ideal blank canvas to decorate and customise yourself, for example using a handmade potato or wooden stamp.
Newspaper, Magazines and Old Book Pages
Newspaper and old pages from books are also great alternatives to non-recyclable wrapping paper and create a smart monochrome theme. Just watch out for any less than festive article headlines or chapter names.
If you can bear to tear them up, some of the best independent magazines, such as Cereal or Seed, can also offer inspiring photos printed on high quality paper to decorate or add interest to simple wrapping.
Pages of Old Maps
Out of date maps, possibly found at charity shops, make for another alternative to normal Christmas gift wrap. Selecting an area of the world that is meaningful for the recipient will add extra thought to your gift.
Fabric
Furoshiki is the Japanese tradition of wrapping important items to transport them. It reportedly began in the Edo period (1603-1868) when the cloths were often used in bath houses as mats and to keep clothes dry. The word furoshiki is both the name of the cloth and the act itself and translates as 'bath spread'.
Today, it's a popular, sustainable way to wrap gifts. The fabric used, for example a scarf or tea towel, could also be a gift in itself. Remember to choose the most sustainable fabrics.
Collect Gift Bags
Gift bags are probably less likely to be thrown away than paper that gets ripped and torn. Collect plain ones throughout the year, or, decorate nice paper bags you've received while shopping.
---
Sustainable Alternatives for Decorating Presents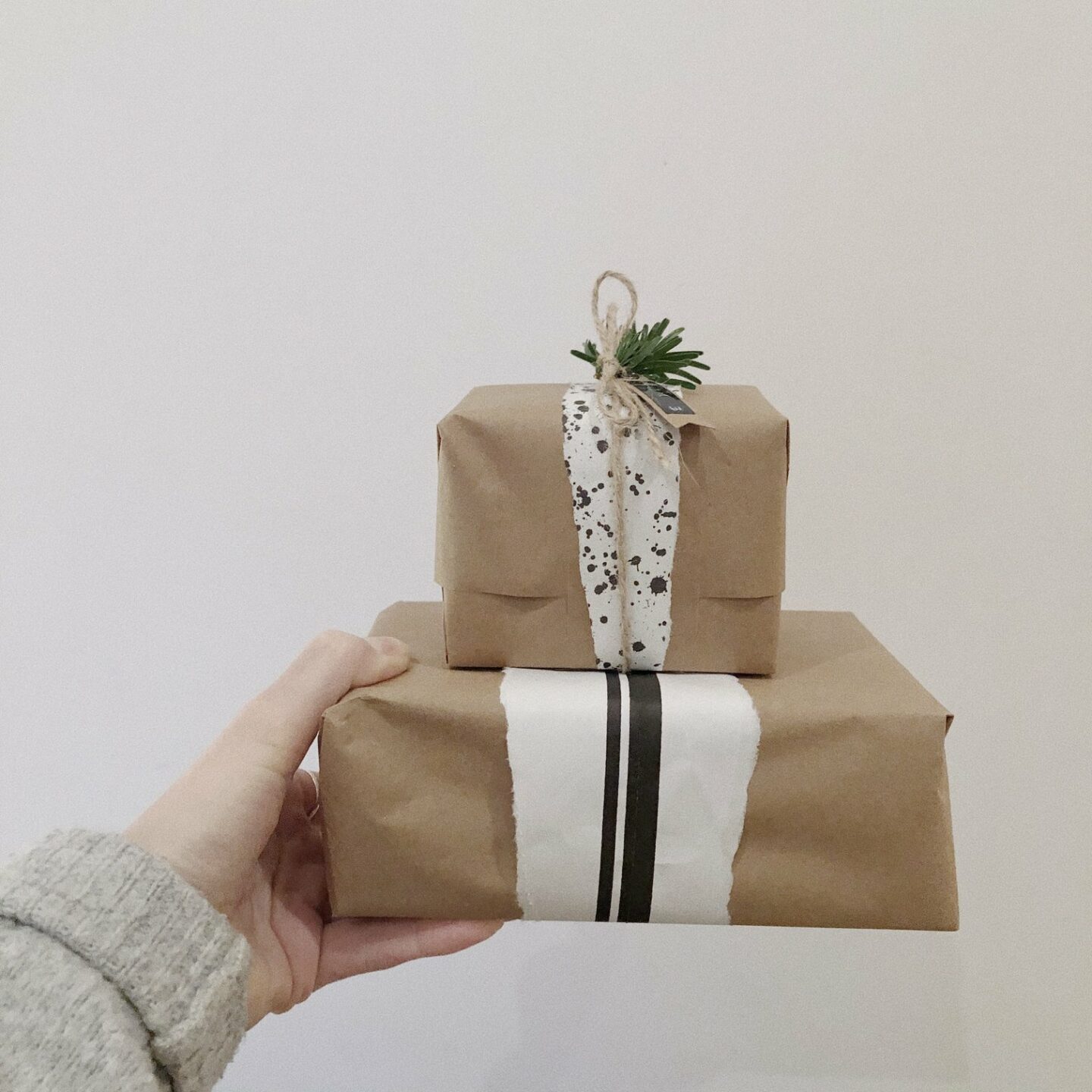 Forage for Natural Decorations
Pine cones, spruce, holly and dried leaves all make for pretty, rustic present toppers that pair well with brown paper and twine. No time to get outside or too far from a forest? If you've got a real tree, take a few cuttings from the back – no one will notice!
Learn how to dry flowers to add as toppers to your gifts.
Create Your Own Decorations in the Kitchen
Christmas is synonymous with spruce, orange and cinnamon scents. Adding dried orange slices, cinnamon sticks and rosemary sprigs to your presents will leave them smelling delicious. Plus, these decorations can go in the compost bin, or, the recipient could even add the dried orange and cinnamon to their bowls of potpourri.
Making gingerbread shapes stamped with the recipient's name or initials is a good zero-waste solution for labels – though these would need to be made nearer to the time you're exchanging gifts to ensure they remain fresh.
Collect and re-use what you've got around the house
With a little creativity, you'll find plenty of Christmas present toppers around the house:
Save old buttons
Re-purpose fabric off-cuts
Save ribbons and embellishments from previously received presents and flowers
Use old baubles
Save scraps of magazines and pretty wrapping paper from previously received gifts
Tear up paper shopping bags to add contrast to gifts wrapped in brown paper
Use children's drawings
Create patterns using washi tape/patterned paper tape
---
Final Tips for Eco-Friendly Gift Giving
Don't forget to source recyclable or biodegradable tape as an alternative to non-recyclable sticky tape.
Encourage family members to return your labels (and paper if in good condition) to re-use next year.
Gather up any embellishments strewn around after Christmas Day from presents and food packaging to save for next festive season.
You may also be interested in our tips for how to enjoy a Slow Christmas.