Conscious consumerism is also called ethical consumerism or green consumerism, and is often referred to as 'voting with your money'. Conscious consumerism means choosing to buy (or not to buy) certain items and products in order to influence brands and manufacturers to ultimately make a positive social or environmental impact.
This guide shares some of the most recent statistics on the rise of green spending by consumers, the history of conscious consumerism and tips for how you can shop more sustainably. Conscious consumerism is a great way to reduce your environmental impact on a regular basis, but remember that it's just one of the many ways we can make a difference.
Statistics on the Rise of Conscious Consumerism
Critics of conscious consumerism argue that shopping more sustainably only serves to make us feel good about our actions, rather than having significant tangible impact. The green spending statistics below indicate changing tides in how we consume, with individuals demanding more ethical or sustainable product options and packaging. In fact, the latest research suggests ethical consumer spending has reached an all time high in the UK.
Eco consumerism is now worth more than £41.1bn. According to Deloitte, 32% of consumers are engaged in adopting a more sustainable lifestyle, and other research indicates the COVID-19 pandemic has accelerated this mindset shift. The size of the industry and the increase in B Corps (businesses that have met a number of social and environmental standards) show that brands are listening, or will need to, in order to not get left behind as younger generations begin to take hold of their purchasing power. Our shopping choices do have an impact, even if there's a long way to go. Remember, the first choice we have as conscious consumers is whether we need the item in the first place.
Sustainable Spending and Demand in Statistics
A March 2021 consumer behaviour survey by Deloitte found that 61% of respondents had actively tried to cut back on single use plastic in the past year – this was the most common action individuals were taking in a bid to live more sustainably, followed by buying more seasonal produce (49%) and buying more locally produced goods (45%).
Deloitte also reports that one in three consumers have stopped buying certain brands due to ethical or sustainability concerns.
Gen Z is adopting more sustainable behaviours than older age groups; 50% have cut down how much they buy and 45% refrained from purchasing certain brands due to ethical or sustainability worries.
According to Co-op's Twenty Years of Ethical Consumerism report, the size of the ethical consumer markets in the UK grew from £11.2bn in 1999 to £122bn in 2020.
Co-op also reports how charity shop sales have increased four-fold since 2018 (worth £732m), quoting higher demand for second-hand clothing.
And the ethical cleaning product market was worth just £2m in 1999 and soared to £59m by 2018.
78% of UK companies expect their sales to grow through a greater focus on sustainability, according to HSBC's Navigator research.
The Soil Association reported the largest ever year on year growth (+12.6%) in the organic market for 2019-2020, which is now worth £2.9bn.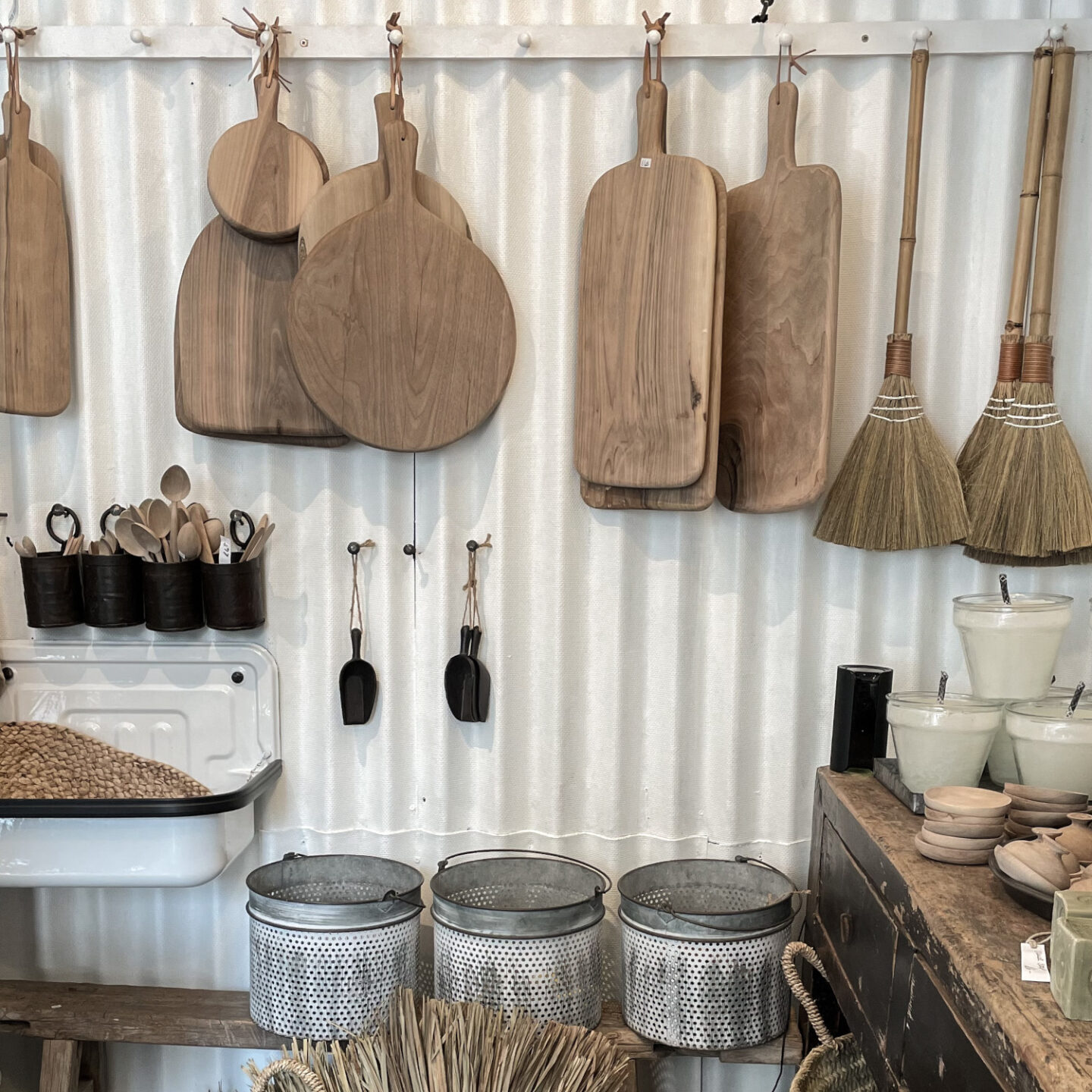 Why has Conscious Consumerism Become More Popular?
The stats above demonstrate both increased consumer demand for shopping consciously and a rising desire from businesses to meet this demand and make it easier and more affordable for shoppers to carry out these purchasing decisions. But why is our mindset changing? Here are some of the catalysts that have cemented conscious consumerism within the zeitgeist.
History of Early Conscious Consumerism
Consumer activism is not new – Ethical Consumer dates one of the earliest product boycotts back to 1791 in England. This was linked to the 'free produce' movement that demanded goods that had not been produced by slave labour. Built In reports that conscious consumerism peaked occasionally since, but really began to take off from the 1980s and 1990s. A number of organisations and campaigns have been formed to raise awareness of environmental issues and encourage conscious consumerism. For example, Carlo Petrini founded the slow food movement (which ignited the wider slow living movement) to defend Italian culinary traditions and heritage, being particularly opposed to the planned opening of a McDonalds restaurant in the heart of Rome in 1986. The Fairtrade foundation was created in 1992 which ignited a series of campaigns, from the first Fairtrade bananas to labelling on packaging.
Conscious Consumerism in the Past Twenty Years
There are a number of factors that have accelerated conscious shopping habits since the 1990s, with some of the largest shifts happening in recent years.
Widespread use of the internet and social media
The increase in consumer awareness around sustainability coincides with the rise of mobile technology and better access to information and global news on an individual level.
In IBM's Meet the 2020 consumers driving change report, the commentary notes, "Today's always-on consumers come highly informed with specific demands pertaining to price, ingredients, delivery options, production methods, and much more." No longer curtailed by the retail offering in their immediate area, today's consumers have a wealth of choice and information at their finger tips. Shoppers can compare products and their provenance, while also being unable to escape frequent and prevalent global headlines on climate disasters and reports. Social media also creates a larger platform and network for activists and campaigns, including awareness days. For example, Earth Day went global in 1990, but arguably has increased in scale since leveraging the reach of the internet.
The COVID-19 pandemic
Many consultancies and research agencies are quoting the COVID-19 pandemic as a catalyst for changes in green shopping behaviour. Mckinsey writes, "During the pandemic, many households had more time to consider their shopping choices and expressed increased desire to make 'eco-friendly' and sustainable choices in their purchases, especially in Europe." In one pulse survey, they reported 17% more Europeans were making purchase decisions that were influenced by sustainability or eco-friendly considerations, compared to pre-pandemic.
After convenience and value, individuals placed more attention on supporting small businesses and their local community.
How to Become a More Conscious Consumer
If you're interested in making more considered shopping decisions but aren't sure where to start, here are five areas to consider:
Shop Secondhand, or Skip it
Shop Small
Shop Slow Food: Eating in Season and Organic, and Wasting Less
Shop Slow Fashion: Wearing Pre-Loved and Repairing
Shop Slow Interiors: Creating a More Considered Home
#1 Shop Secondhand, or Skip It
The first step to consuming more consciously is to consume less. If you're making a purchase, slow down and question if you really need that new item. Is it an impulse buy or is it a well thought out purchase? Shopping secondhand, or borrowing an item you're likely to use only occasionally, is much preferable to buying new.
#2 Shop Small
By supporting independent shops and local manufacturers, you can make more conscious purchase decisions (with better visibility of supply chains) and help reinvest in your local community (while keeping it vibrant and unique). It's said that if every adult in the UK spent £1 a day with small businesses, it would add £12bn to local communities.
Holly Tucker MBE, co-founder of Not On The High Street and founder of Holly & Co, is the UK's small business cheerleader and spearheads a campaign to get people shopping independent and voting with their money. For inspiration, head to the Holly & Co website.
Trouva is a digital platform for the independent brick and mortar boutiques around the UK.
Explore the Just A Card campaign which encourages shoppers to support small businesses through buying a greetings card. They recognise that not everyone can make a sizeable purchase, but if each visitor bought a card, it would go some way to keeping indie businesses going.
The store images featured in this article were taken at two independent shops, The General Store and The Fig Tree – both brilliant examples of indie businesses.
#3 Shop Slow Food: Eating in Season and Organic, and Wasting Less
Food production, which includes growing, rearing, making, distributing, storing and cooking food, creates 30% of total greenhouse gas emissions globally. Considering the provenance of your produce and what you choose to buy is important when becoming a more conscious consumer. Food waste is another big issue with UK homes throwing away 4.5m tonnes of edible food each year. That's the same as 38m wheelie bins.
Research food labelling and the benefits of eating organic.
Reduce your carbon footprint by eating seasonal produce, while helping to support local producers and culinary traditions.
Try growing your own fruit and vegetables.
Plan ahead to cut down on food waste.
Become more aware of the impact of different foods, for example through using resources like the Good Fish Guide.
Explore solutions to cut down on single-use plastic packaging and other waste, such as refill stations and wonky veg boxes.
Read more on slow food, slow gardening, reducing food waste and seasonal living.
#4 Shop Slow Fashion: Wearing Pre-Loved and Repairing
The fashion industry is one of the most polluting in the world, from chemical-heavy farming to energy intensive manufacturing processes and an estimated £140m worth of clothing in landfill each year. It also poses serious questions around worker welfare. Clothing is where the phrase 'buy less, but buy better' comes into its own. Slow fashion is about recognising that there is a very high cost to fast fashion, even if that cost is not directly visible to us.
Research the most sustainable fabrics and start studying clothing labels to feel informed when shopping (choosing the right fabric can be complex – for example, it's not just about avoiding synthetics as non-organic cotton production tends to use high volumes of water and pesticides).
Use sites like Ethical Consumer to research fashion brands' sustainability efforts, or lack of them.
Repair clothes where possible.
Go charity shopping and buy pre-loved, or swap with friends and explore the rental economy.
Diligently read care labels and ensure you're maximising an item's lifespan. Washing clothing less frequently can also reduce the amount of microfibre shedding into waterways from synthetic garments.
And opt for classic, quality garments that you'll still love in years to come – the average lifespan of a new garment is approximately 2.2 years, but extending its active life by nine months can greatly reduce its environmental impact, according to WRAP.
Read more on slow fashion and fast fashion.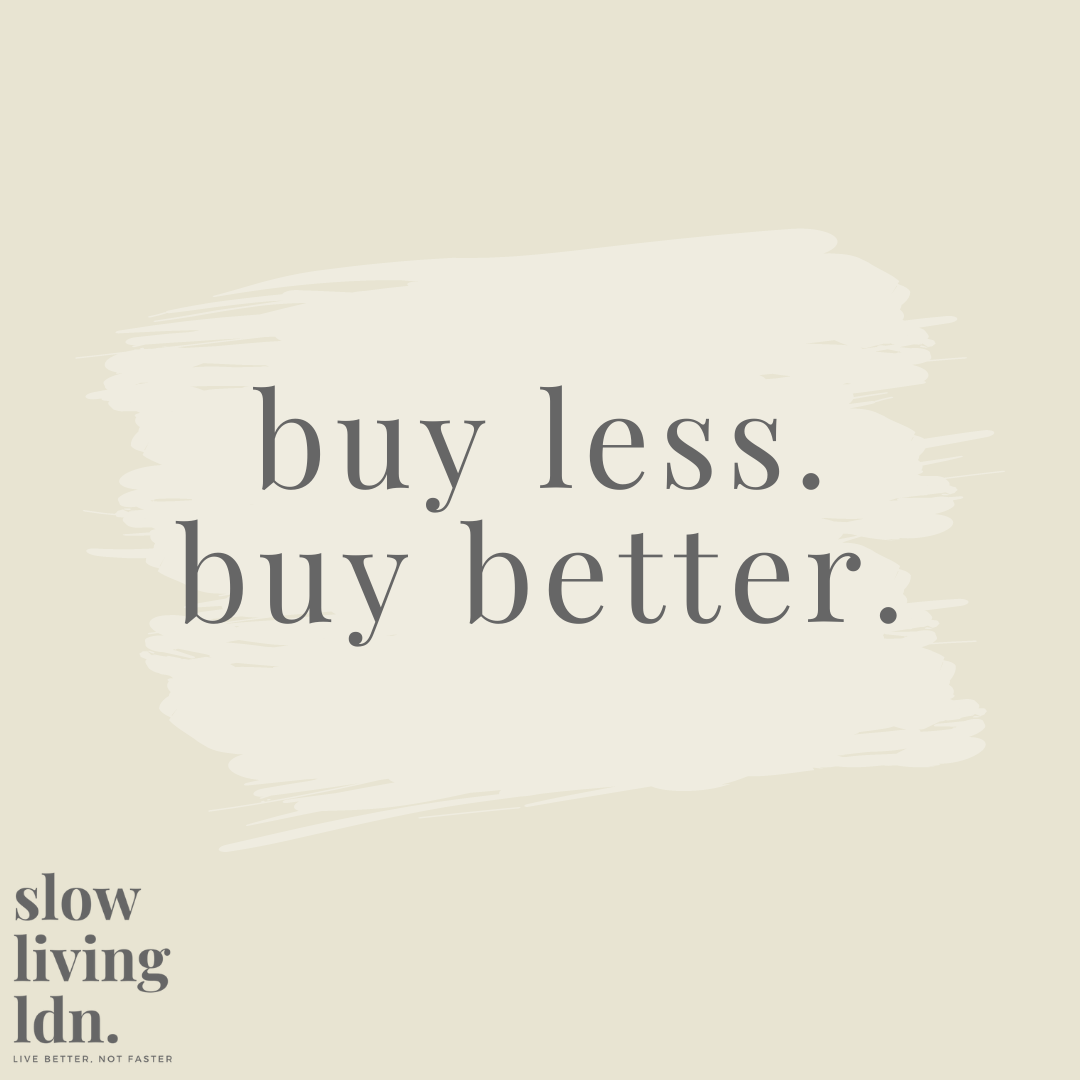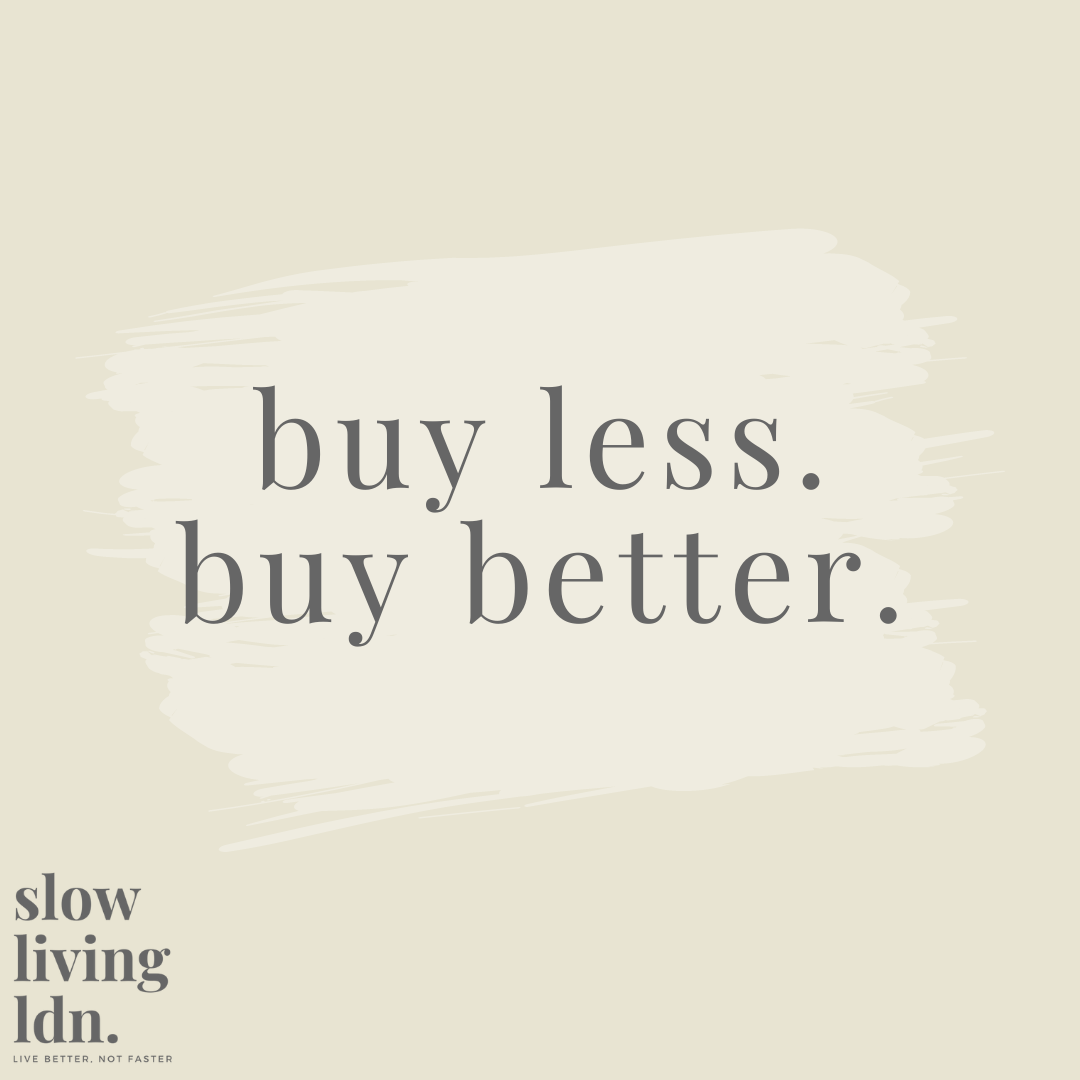 #5 Shop Slow Interiors: Creating a More Considered Home
How we furnish our homes and deal with the waste we produce can often be a forgotten area of conscious consumerism. Many purchases for the home include textiles, which also require research as when choosing new items of clothing. And like fashion, interior decorating is marked by trends and seasonality. For a more sustainable home, research well and buy the best quality you can afford that transcends trends. With platforms such as Facebook Marketplace, it's also never been easier or more affordable to buy good quality, solid second-hand furniture that, with a little love, can have a new lease of life.
Read more on slow interiors and slow design.
More Tips for Voting with your Money
Use sites like Ethical Consumer to do research on brands – for example, some ethical businesses are owned by unethical parent companies.
Be wary of 'greenwashing' – when brands claim or mislead you to believe that their products are more environmentally-friendly than they actually are. For example, Changing Markets' Synthetics Anonymous report notes that 96% of H&M's claims, 89% of ASOS's and 88% of M&S's flouted the UK Competition and Markets Authority's guidelines on green claims.
Further Reading on Conscious Consumerism